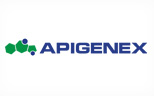 APIGENEX s.r.o. is a contract research organization (CRO) based in Prague, Czech Republic, following successful research of former VÚFB (Research Institute for Pharmacy and Biochemistry) which terminated in 1992. We provide our clients, local as well as international pharmaceutical and chemical companies, with highly professionally performed services, which enable them to realize and accomplish their research plans in drug discovery and crop protection.
APIGENEX offer our collaboration in various research projects. We are able to synthesize potentially active compounds to a short deadline and to an excellent quality.
The pharmacological department is able to conduct the basic pharmacological screening and assess the pharmacodynamic profile of efficient substances. The experimental studies are performed in common laboratory small rodents.
Main domains
drug discovery
peptide synthesis
GMP production
design and synthesis of drug-like compounds
custom synthesis of synthons and chemical specialities
combinatorial and solid phase chemistry
experimental pharmacology and pharmacokinetic and pharmacodynamic studies (inflammatory, diabetes, cancer)
clinical pharmacology, regulatory affairs, pharmacovigilance
Our policy
High scientific standard and competitive costs
High credibility and reliability
Creativity
Individual Approach
Flexibility
Confidentiality