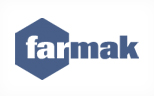 FARMAK is a globally active Czech pharmaceutical and chemical company focused mainly on development, production and marketing of active pharmaceutical ingredients (API), advanced intermediates and chemical specialties.
FARMAK's production facilities are regularly inspected by The State Institute for Drug Control (SUKL), by the American Food and Drug Administration (FDA) and comply with the highest level of cGMP requirements.
FARMAK's multi-purpose equipment enables production of API's and intermediates from hundred grams up to multi-ton scale under cGMP conditions. FARMAK is equipped for handling of highly toxic and carcinogenic materials. For critical steps, controlled areas of the class C and class D are in place. FARMAK chemical expertise is the heterocyclic chemistry including thioaromates.
FARMAK provides:
R&D services
GMP kilo-lab
pilot plant and large scale production
(both complying with cGMP)
custom manufacturing of API's and intermediates
regulatory documentation (DMF/CTD, CEP/COS)
certification (GMP, FDA, ISO 9001, ISO 14001)