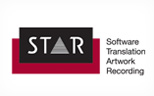 STAR Czech is a member of the international STAR Group operating in 45 offices on 4 continents offering professional translation/ localization and software development services. The STAR Group was founded in Switzerland in 1984.
STAR Czech specializes in translation of technical and scientific texts of many fields in over 50 languages, using specialized native speakers all over the world. Our translators not only know how to translate, but they also understand what they translate about which is crucial for the quality of the final text.
The STAR Group has also been a developer of computer-aided translation (CAT) software Transit featuring powerful translation memory, fuzzy logics, terminology management and quality assurance functions for over 20 years.
Main domains
Translation of technical and scientific texts, incl. medical/pharma/biotech texts into over 50 languages
Proofreading and correction of texts in over 50 languages
Graphical design, layouting, DTP
Pre-press preparation, printing, multilingual websites
Translation/localization project management
Multilingual terminology and Translation Memory management
Computer-aided translation software development
Our policy
Quality by native speakers, specialists of the respective fields
Efficient processing of repetitive texts using CAT software Transit
Reasonable prices, extensive discount system
Flexibility
Confidentiality
Quick and reliable service